Flint Hill Volleyball wins state championship, caps 35-0 season
The fall sports season has come to an end. However, many memories were left behind, one of the most memorable being varsity volleyball's historic season.
Varsity volleyball ended with an impressive 35-0 record. Not only did they go undefeated, but they also managed to win the state championship.
When asked about the epic season, junior Setter Krissy O'Malley said, "[This season] meant so much to me because we work so hard every single day. To see that it paid off is one of the most accomplishing feelings in the world."
O'Malley said her most memorable part of the season was "when we went to New Jersey and won a huge tournament there. We beat the top-ranked teams in the states of New Jersey, New York, and West Virginia all in one weekend. That's when we knew our team had a real shot of being not only undefeated, but being an overall special team."
Sophomore Outside Hitter Lauren Salewski thinks repeating this epic season is completely doable. "As long as we stay driven, we can do anything," said Salewski.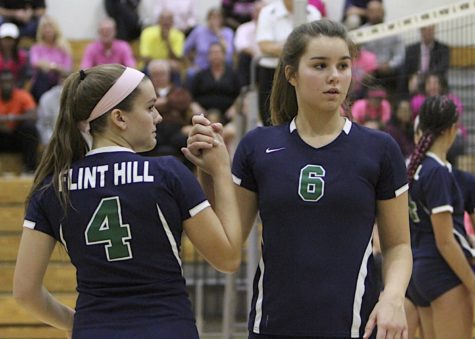 Photo Credit: Sue Spencer

When asked what the team means to her, Salewski stated, "FHS varsity volleyball means so much to me. During the summer, it's everything we focus on. We are driven and committed to the trust of each other and what this team holds. We put our hearts out on the court. That's what I love the most about this team. There [are] no regrets about how we will play. We have a bond that can never be broken, and Flint Hill volleyball created it."
Varsity volleyball's tremendous season will never be forgotten. Going 35-0 is no easy feat. Furthermore, "every game had immense amounts of pressure," said O'Malley. But, Varsity volleyball's hard work paid off. "We made history!" said Salewski.