Flint Hill's football team wins state championship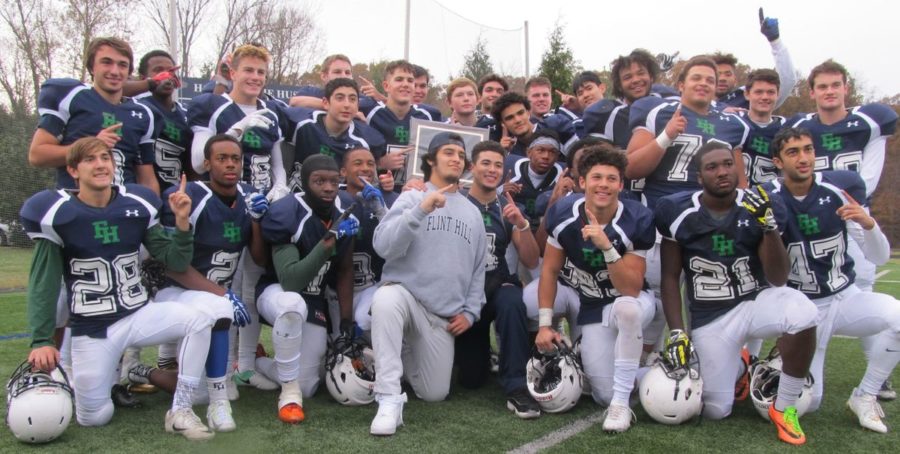 By Jonathan D'Ari, Staff Writer
November 30, 2017
Flint Hill football won the state championship for the first time in school history, capping off a perfect 11-0 season.
The Huskies got off to a rough start. They were down 7-0 at the end of the first quarter. However, the Huskies quickly bounced back. Junior Quarterback Miles Thompson put Flint Hill on the scoreboard after rushing for a 20-yard touchdown. Junior Jordan Houston gave the Huskies a 13-7 lead heading into the locker room after rushing for a 37-yard touchdown near the end of the second half. Houston finished with an impressive 158 yards rushing on the day.
Flint Hill started the second half on a mission. They put together an impressive drive coming right out of the locker room, capped off by Houston's 3-yard touchdown run. After the extra point, this increased their lead to 20-7. Following a punt by Collegiate on its next drive, Thompson connected with junior Wide Receiver Trey Rucker for a 75-yard touchdown. The score was now a lopsided 27-7 blowout. Thompson was 7 for 11 passing for 161 yards and had 46 yards rushing.  
"Our team had exactly what it took to win," Thompson said. "We weren't the biggest with only 30 players, yet everyone knew exactly what their role was and how to execute it in order to give us a chance to win. We were all unselfish and a close-knit group of guys. There might have been one or two games where everyone did exactly what they were supposed to. However, whenever someone on the team was facing adversity, guys were unselfish and did what they could to pick up for that person and help us win."
Collegiate managed to score a touchdown late in the fourth quarter, but the Huskies responded with a 39-yard rushing touchdown from Houston. Collegiate was able to score another touchdown and recover an onside kick, but Rucker put the game on ice with an interception. The final score was 33-21. Students stormed the field at the conclusion of the game to congratulate the best football team in Flint Hill history.
Sophomore Nick Hendrix said, "The football team has meant the world to me this year because of the new relationships that were created during our amazing run. Without my teammates, none of this would have been possible. We became closer as a team and as a family."
Rucker said, "The atmosphere felt like no other game. It was completely bigger. It was a lot louder and that put more pressure on our play."
Flint Hill Football was dominant this season, scoring an average of 43.7 points per game and winning by an average of 29.9 points, a testament to their skill on both sides of the ball. Although the team will be losing seven key seniors, the Huskies will be poised to make another run at the state title next season and hopefully repeat an undefeated season!