Seniors commit to play sports at the Collegiate Level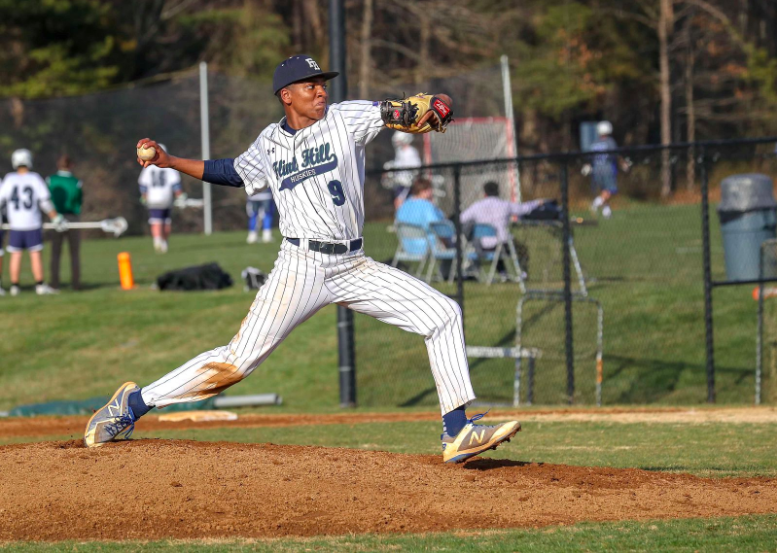 A number of strong athletes in the Flint Hill community have taken a step forward to cement their dedication to their respective sports. All these athletes have chosen their future college destinations. Whether the students committed for soccer, lacrosse, football, baseball, or swimming, the players have chosen to go to a variety of different schools. Through dedication and passion for their sports, These students have shaped their high school experiences through their dedication and passion for their sports and look to take their careers to the next level and play in college.
The signing sessions for the athletes took place at many different times throughout the year. At these sessions, coaches repeatedly expressed their pleasure to have these players participate at Flint Hill. There were mixed emotions at their signings; players were excited for their futures, but sad that their high school careers were coming to an end. However, all of these athletes and coaches were unanimously thankful and appreciative for their tenure at Flint Hill.
"It's a great feeling," said Amherst soccer recruit, Alex Shahmirzadi. "To put in hard work throughout my life and take it a step further in college. It is something completely surreal."
Alex Shahmirzadi was not the only senior committed from the Flint Hill Varsity Soccer team. Tye Williams also committed, but to Case Western Reserve University, and Tate Rusby Wood committed to Goucher College.
Rusby Wood explained the role his sport played in his life and throughout his high school career.  "Soccer was really important to me," he said. "It is a big part in my life, and I am happy to have had the chance to play at Flint Hill."
Senior athletes are also committed in football, swimming, lacrosse, and baseball.
The football team made Flint Hill history, as it went 11-0 and continued on to win the state Championship, had many successes throughout its season. However, the championship win against the Collegiate Cougars was by far the most meaningful. Many senior leaders led Flint Hill through its undefeated season. Xavier Formey, Jamarian Hawkins, and Mark Lewis, all Clarion University commits, were key players on the football team.
Flint Hill athletes find sports to be a mode of relaxation and fun in a bonding environment that is priceless. However, college sports are unlike any competition these students have ever faced before. It takes greater commitment and dedication and is much more intense than high school sports. Flint Hill students are up to the challenge of facing this new athletics environment. It can be emotional to watch these talented Flint Hill students go, but we hope to hear of them again in the future.
All senior commits are listed below:
Sierra Baker (Swimming): Rice University
Sean Connolly (Lacrosse): Arcadia College
Kevin Cruz (Lacrosse): Wagner College
Xavier Formey (Football): Clarion University
Siron Hardy (Volleyball): George Mason University
Jamarian Hawkins (Football): Clarion University
Jasmine Hellmer (Swimming): Northwestern University
Kyle Jung (Lacrosse): Washington College
Mark Lewis (Football): Clarion University
Carly Middleton (Volleyball): Palm Beach
Nya Reed (Gymnastics): University of Florida
Alex Shahmirzadi (Soccer): Amherst College
Justin Taylor (Baseball): Cornell University
Tye Williams (Soccer): Case Western Reserve University
Tate Rusby Wood (Soccer): Goucher College