Huskies triumph in Homecoming games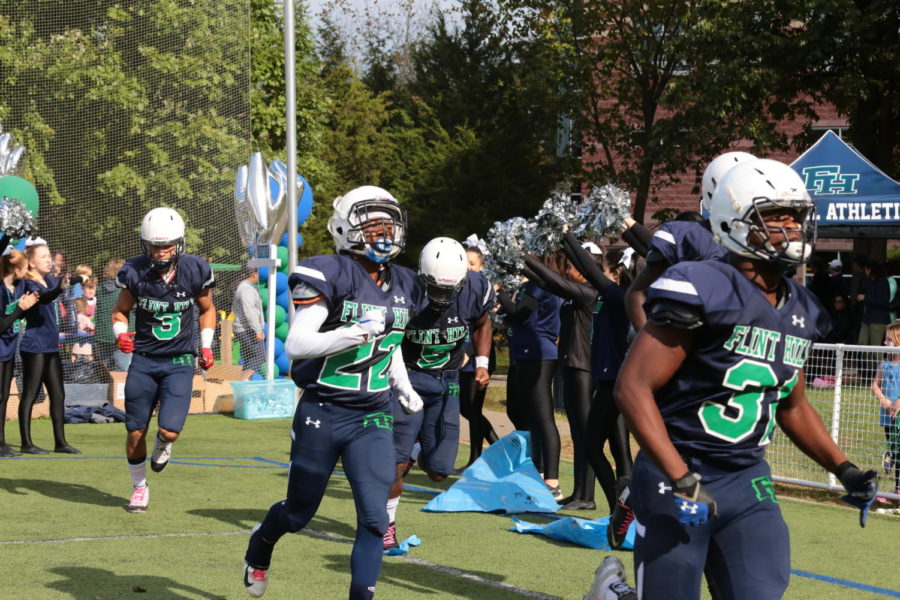 By Shiv Lamba, Co-Editor-in-Chief
November 1, 2018
Homecoming is an annual tradition at Flint Hill in which students participate in Spirit Week, proposals, dinner, dancing, and after-parties. However, the most memorable part of Homecoming is experiencing Flint Hill's fellowship by coming out to support one of the many sports events on the day.
Varsity Field Hockey opened up this action-packed day with a 4-1 win against Brookewood School.  The team worked together to fulfill this goal, making the team's homecoming experience memorable.
Varsity Volleyball's victory followed shortly after Varsity Field Hockey. The girls suited up to play Trinity Christian School, routing them in straight sets: 3-0.
Varsity Girls' Soccer was the next game on the schedule. Before the game, the Varsity Girls' Soccer team boasted an 8-3-1 record.
Senior and right winger Nadia Talaksi said, "We are on a roll right now. We feel like we can beat any team we want. We beat Woodrow Wilson last year 2-0. If we do our jobs and fight for each other, I am optimistic we can bring home this win."
The soccer team followed through and showcased an impressive performance for all the fans. They ended the game in a 2-2 tie, moving their record to 8-3-2.
The Flint Hill Boys' Varsity Soccer team also played Woodrow Wilson High School, unfortunately suffering a tough 1-6 loss.
Following the loss, senior and right back Connor Bath said, "It was a disappointing loss. We wanted to put on a show for the Flint Hill community, but it's okay. We are going to bounce back and beat Potomac this coming Tuesday."
As Connor promised, the team did not let the loss on Homecoming day faze them. They went on to beat their archrivals, The Potomac School, 4-3 in their next game.
Varsity Football suited up for the final Homecoming game of the day against Saint James School. This game was far from intense, as the team annihilated Saint James with a score of 38-0.
After the game, senior and wide receiver Rohit Gentle said, "It means so much to the team to get a win on Homecoming day, especially for the seniors. This is my last Homecoming game, and I would not want to have it any other way. If we stay focused, I am confident that we can end the season with an undefeated record and leave our legacy at Flint Hill. It won't be easy, but with hard work, I know we can achieve this feat."
As evidenced by the impressive victories from each team, Homecoming is a time full of excitement and passion. Although not all of our sports teams were successful, the excitement surrounding the day was an unforgettable experience, and all students came out to show their Flint Hill pride.