Student-athletes honored at Flint Hill senior nights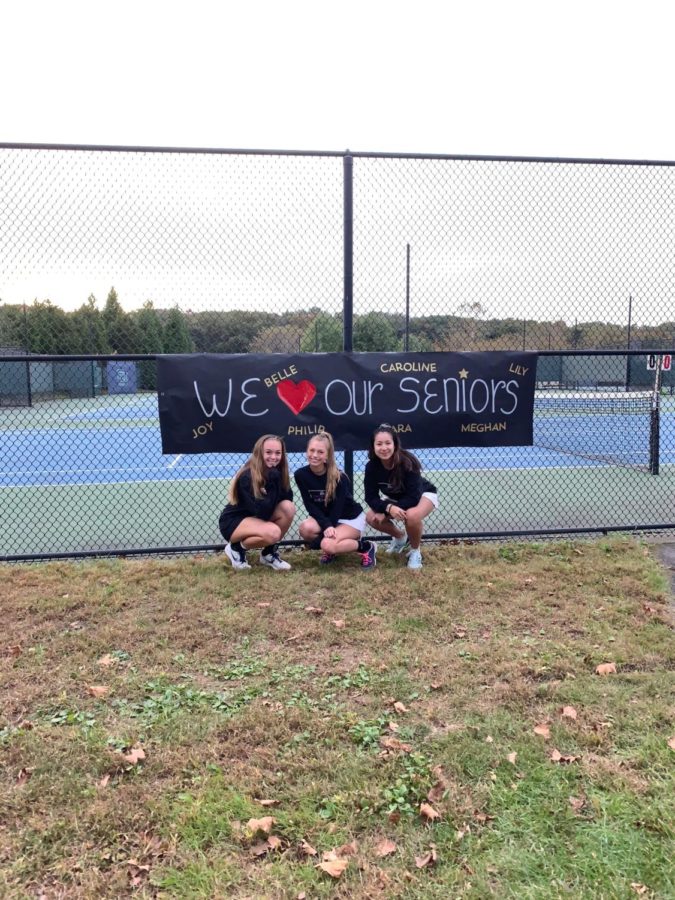 The senior nights for Flint Hill varsity teams have been extremely successful this year. Senior night is the last home game of the season for a sport, and during this event, the seniors are honored for their contribution to their respective teams. This is a great time for spectators to come out and support their friends and fellow student-athletes. All of the fall sports (cross country, field hockey, football, soccer, tennis, volleyball, and golf) have had their senior nights this season. For many of Flint Hill's teams, the seniors have helped hold the team together through hard work, determination, and leadership. While it is unfortunate that the tenure of many athletes is coming to an end at Flint Hill, it is also exciting in that they are ready to step into the next phase of their sports career.
Senior Lily Kyser, the manager of both the Junior Varsity and Varsity Girls tennis teams, said  "[Senior night] is nice because it recognizes all the hard work seniors do with the team. I was recognized for my commitment to managing the tennis team throughout the season. It is an excellent accomplishment for me."
A popular tradition that everybody looks forward to during senior night is planning special dress within the teams. Students have the choice to wear a senior night t-shirt to honor the seniors on their teams. Many teams choose to design the t-shirt and their team dress themselves.
Lily explained how this tradition helped bring the tennis team together: "It made our team feel even more united. It was great to be on a team one last time in front of the Flint Hill crowd."
Senior night is even more special to the athletes themselves. Getting support from their peers and fans helps seniors feel a sense of fulfillment and loyalty towards their team one last time before their high school sports careers end.
Senior Sara Khan, a member of the Varsity Tennis team says, "[Senior night] was a great experience for the entire team. We got the chance to bond during this event and I will remember it as one of my favorite experiences of high school. Ever since my freshman year, I was looking forward to the moment when I could stand in front of the rest of my team and be honored. This year, I finally got my chance."
It is also a tradition for coaches to talk about each senior athlete on the team. Because some of the coaches have known their team's players for years, the personal speeches dedicated to each seniors is a significant and unique aspect of the night itself.
Senior Tristan Hearn, the goalkeeper for the boy's soccer team, talked about his senior night: "Coach talked about each and every one of us before the game. This experience made my soccer career with Flint Hill feel more complete. I had the best soccer game of my career."
Senior nights are an iconic event at Flint Hill that will continue to be a memorable part of each student-athlete's high school career. It is a bittersweet event for the seniors in that they love the recognition and meaningful words from their coaches, but they will also miss their teammates and will be wrapping up their athletic career at Flint Hill. While we will miss all the seniors, we wish them the very best as they move on to new challenges and endeavors.