Flint Hill makes the first kill at annual invitational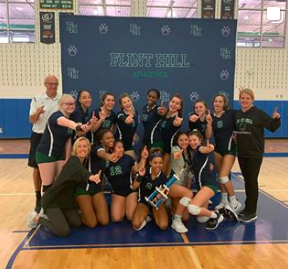 Flint Hill hosted the 15th Annual Invitational tournament for private schools in the area. The Huskies got the first point with a kill against Fredericksburg Christian at the 15th annual Flint Hill Volleyball Invitational, kicking off yet another exciting tournament.  
Teams including Flint Hill, Episcopal, Fredericksburg Christian, and Nansemond-Suffolk were in Pool A which played on Friday, September 20. St. Stephen's & St. Agnes, Trinity Christian Norfolk Academy. St. Catherine's were teams in Pool B that kicked off the day on Saturday, the 21st. Saturday afternoon were the semi-finals and finals where Flint Hill played St. Catherine's and Nansemond Suffolk played Trinity Christian. Then in the finals, Flint Hill beat Nansemond Suffolk in both sets, making Flint Hill Champions of the Flint Hill Invitational, yet again.
Head Coach Carrol DeNure, who has led the Huskies to multiple Triple Crowns added, "Going into the tournament our team goal was to win the championship. The Flint Hill Invitational is a special tournament and a chance for our team to play in front of our home crowd. The fact that it was the 15th Annual made it even more significant and our team played exceptionally well. Capturing the tournament championship was one of our preseason goals and it was great to see all of our players step up and contribute."
Middle blocker, Elayna Duprey '21, was awarded MVP and Sydney Reed '20, outside hitter, and Denver Pugh '20, outside hitter, were the other Flint Hill student-athletes included in the all Tournament team.
Follow our Flint Hill Varsity Volleyball Team as they play their Dig Pink Match in support of breast cancer on October 4.