Husky Football Carries the Day Against PVI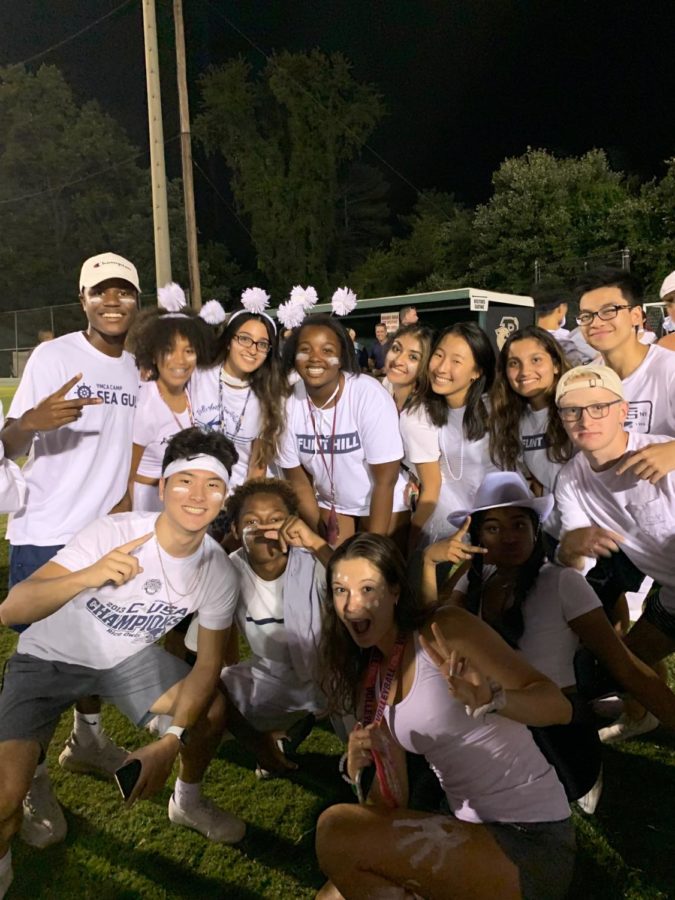 On Friday, September 6, 2019, the Flint Hill Huskies defeated the PVI Panthers by a score of 28 to 6. For many, this marks the start of the football season, but the football team has been working hard since their preseason in mid-August.
Throughout the game, the Flint Hill community demonstrated enormous support for their team. Huskies attended the game wearing white-out attire. Throughout the game, Huskies cheered enthusiastically with "Go Huskies!" 
The pressure was high because it was the first game of the season. Team Captains Justice Ellison, Jaylin Hertz, Elijah Wasson, and Game Captain Brian Scherer led the team to take the field. After the kickoff, the Huskies started on defense. By the 11th play, PVI scored a touchdown on a rushing play.
At the end of the first quarter, the score was 0-6. However, this did not stop the Huskies from losing their spirit. In the second quarter, quarterback Alex Ballinger passed the ball to wide-receiver Justice Ellison, who ran from the 45-yard line to the end zone. The kicker for the extra point was freshman Dylan Logue, and his kick was good.  At the end of the first half, the Huskies held a one point lead.
The fans of the Huskies cheered for their team during halftime. At the beginning of the 3rd quarter, another touchdown was made when Ballinger passed the ball to Ellison once again. This was followed by another successful extra point by Logue. Later in the game, Ballinger handed the ball off to senior Running Back Jaylin Hertz, who penetrated the Panthers' defense and rushed the ball in for another touchdown. Logue kicked another extra point and by the end of the third quarter, the score was 21 to 6 with the Huskies ahead. In the fourth quarter, the Huskies were able to score one more touchdown and a field goal. By the end of the game, the Huskies triumphed over the Panthers with a final score of 28 to 6. 
After the game, the air was crackling with energy as Huskies fans scrambled onto the field to congratulate the winning team. They spread across the field and took pictures to celebrate while the Paul VI Panthers departed. Soon, celebratory posts showered the Internet, congratulating the Huskies on their hard-fought victory. Following the success of the game, the football team wishes to bring more wins to the school and encourages students and faculty to come out and support in upcoming games.