Flint Hill Volleyball Wins Yet Another State Championship In Their Nearly Perfect Season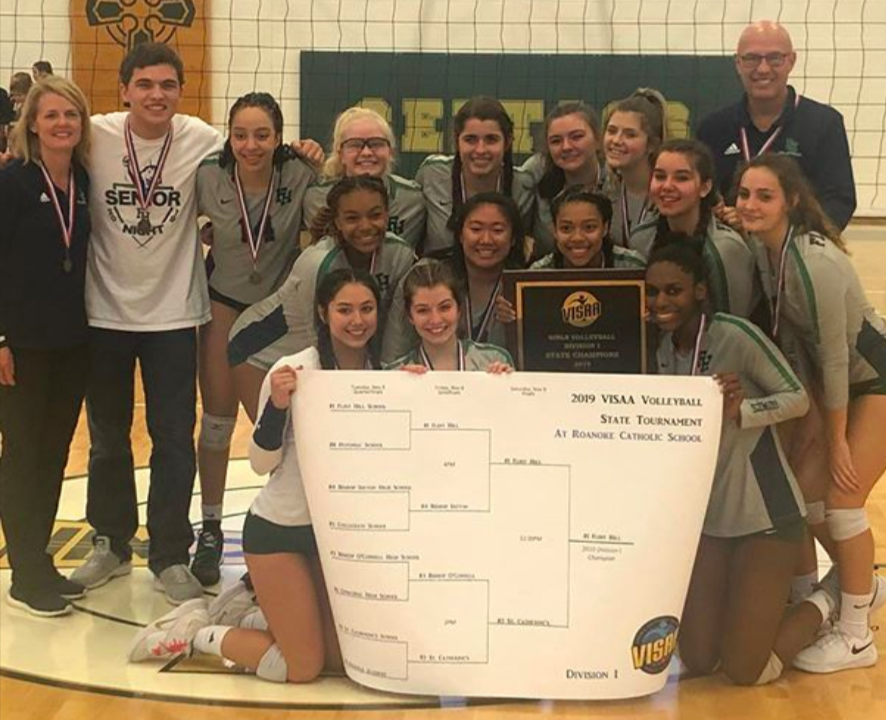 The Flint Hill Varsity Volleyball team had yet another successful Fall season. Earning an overall record of 31-1 and bringing back a state title, the Huskies did not disappoint!
In the past two years, the Flint Hill Volleyball team has had records of 30-1 and 34-0. Much of this success should be attributed to the great leadership of the seniors. Three of the seniors had committed to play volleyball in college next year: Denver Pugh to California State University-Bakersfield, Sydney Reed to University of North Carolina at Chapel Hill, and Ericka Link to Elon University. While this portrays their great individual talent, it also speaks to their great leadership. This was key to Flint Hill's success this season.
Junior Gabby Masiello was new to the team this year and immediately felt comfortable on the team. She said the following about the seniors: "Being new they really looked out, helped me adjust; they took their job seriously. Obviously, [they] led us to a successful season. I cannot thank them enough for helping me mix into this team and help us find success."
Throughout the season, the team only had one loss.  Towards the end of the season, the Flint Hill Volleyball team participated in the Independent School League Tournament. They handled business very well, defeating the Maret School, Episcopal High School, and the Madeira School in the Quarterfinal, Semi-Final, and Championship, respectively. All of these matches were won in straight sets, and the Huskies dominated. Following this big tournament win, the team was set to play the DC Metro City Championship against St. John's College High School on November 11th. Once again, the Huskies took a 3-0 straight-set win.
Finally, the whole season led to the Virginia Independent School Athletic Association (VISAA) State Tournament. 
Senior Denver Pugh said the following about the VISAA State tournament: "Of course, we have had a successful season so far, but it would be incomplete without a State championship. The team is laser-focused on the upcoming games in this tournament." 
Denver and the rest of the team crushed the competition, defeating their rivals of the Potomac School at home in the Quarterfinals. However, the Tournament Semifinals and Championship would be played away from Flint Hill. While this was a slight disadvantage for the team, the Huskies prevailed over the competition, only losing one set in the last two games.
Because of great leadership, laser focus, and confidence, the Flint Hill Volleyball team experienced success once again. With such a great track record, the team played up to and exceeded their standards, and will hopefully continue to do so in the future.