The Annual Nutcracker Awakens the Holiday Spirit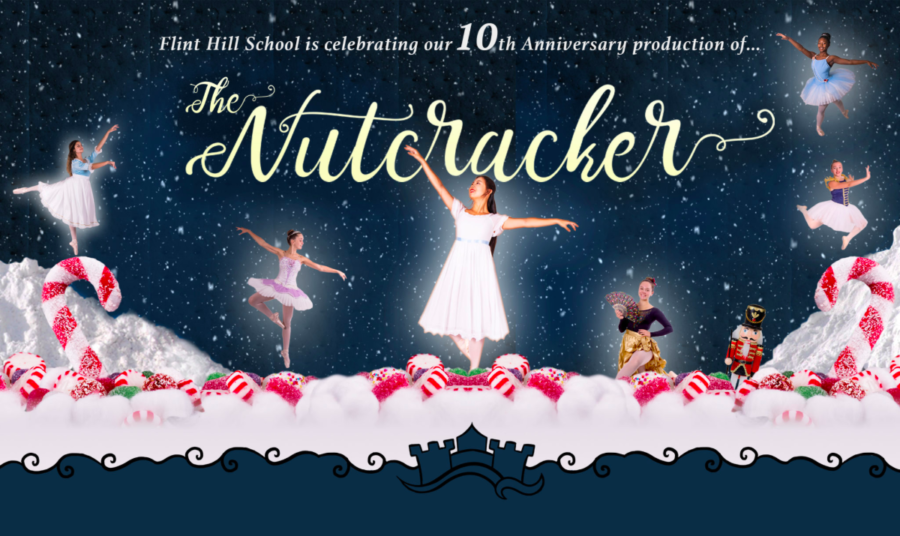 By Erica Kim, Co-Editor in Chief
November 20, 2019
On November 15 and 16, Flint Hill Huskies, families, and friends joined together for the annual production of The Nutcracker to support our dancers and watch their favorite Christmas ballet. The performances revealed incredible set design, decorated with a lit, ornate Christmas tree, beautiful sofas, and a Land of the Sweets backdrop. Each performance ended with the audience's standing ovation, and families poured out of the theaters excited to congratulate their children and siblings with flowers in their arms. Each performance marked a valuable memory for the dancers, especially for the senior dancers who have been a part of this production for at least two years during their time at Flint Hill School.
For senior Alina Wang, who played the role of Clara, this performance held significance in her progress as a dancer.  "This was my first time performing on pointe and it was very exciting and special as I worked to live up to this moment since freshman year. The performances meant to a lot of us as it might have been our last time performing in a full ballet production ever in our lives. I love being a part of this production as I get to be surrounded by amazing faculty, my closest friends, and crew who have been incredibly supportive in the process," she said.
Peyton Murphy danced as the Sugar Plum Fairy as a sophomore, and the audience was amazed by her poise and beautiful interpretation of the variation on stage. She had practiced almost every day during office hours, consistently reviewing her dances with Upper School Director of Dance Productions Jenelle Mrykalo and practicing in and out of the studio. 
"It was an incredible experience because while I was extremely nervous before the shows, I was able to push through and perform, pushing past my limit. It was amazing to work with Chris, a professional male ballet dancer who played the Cavalier, as it helped prepare for my future in the dance world, which is getting more and more competitive every day," exclaimed Murphy.
Reflecting upon her growth as a dancer and the arduous progress that brought her to this very moment, Murphy nodded her head, agreeing that her diligence and persistence paid off. "Playing Sugar Plum Fairly was like my childhood dream come true. I imagined playing that role since I was a little girl. I have a glass gingerbread house that plays the Dance of the Sugar Plum Fairy, and I remember I used to dance in my kitchen to it. I cannot wait to take on a new role next year!," said Murphy.
Every Nutcracker performance is magical with the participation of faculty. Their role as the party parents and mice not only made it entertaining for their fellow students and colleagues to see, but it also connects faculty and students, stirring collaboration and conversations outside of academics. 
One of the Nutcracker's most prominent faculty participants is Upper School History Teacher Rob Horne, who has taken on the role of Drosselmeyer for the past three years. His jocular presence and optimistic attitude have brought incredible delight to the dancers, stage crew, and fellow faculty during rehearsals and performances.
"I was amazed at how different pieces could be put together.  It is my fourth year helping out, and I have enjoyed every minute of it. I have a genuine appreciation for the hard work and dedication the dancers put in and it was really fun to be a part of that process. It is an absolute joy to work with students and colleagues involved as rat and party guests!" Horne remarked.
Considering the professionalism and extensive choreography that the production consisted of, it is assumed that these dancers have dedicated an inordinate amount of time to ensure that the performances were all successes.
The commitment of and collaboration among student and faculty dancers, the stage crew, and principal director Ms. Mrykalo assembled another sensational performance of the Nutcracker. Congratulations to the entire cast and crew!