Spring Activities!
The weather is getting warmer and the days are getting longer. Summer is rushing towards us. Like many people my age at this point in the year, I've started to contemplate my plans for the near future. Summer is almost here, and yet I am unsure of how to spend my three months of relaxation. I want to have a normal break, filled with travel, sunshine, friends, and cold ice cream, but COVID-19 is a hindrance to this, too. The vaccine is getting distributed, yet we still need to be careful and aware of what we do during this transition period. Smaller groups and outdoor adventures will still be safer for the time being. So this leaves one question left: What activities can I do to enjoy the warm weather, yet still, stay respectful of the COVID guidelines? 
My first idea is a stargazing picnic. You can choose to go alone, or with a couple of friends or family members. Pack some snacks, a blanket, and set out on an adventure. You could go early to catch the sunset or go late at night when the stars are in full view. Make sure to look at the weather beforehand and check to see if the moon is full or not. The best places in Virginia to go stargazing are Shenandoah National Park, Assateague Island National Seashore, Meadows of Dan & Primland Resort, Grayson County, Highland County, Lake Anna State Park, and Natural Chimneys Park & Campground. You can even see the Milky Way in Staunton River State Park. Remember to wear masks, socially distance, and pack bug spray!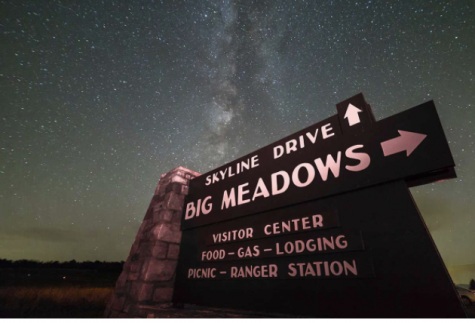 The next activity also requires a bit of driving, yet it is a must-do. Try going on a road trip to nowhere. Pick a random place that best fits your needs, or drive until you feel like stopping. Pack blankets, food, and anything else you might need to make the trip enjoyable. Listen to music and roll the windows down. Go with a parent for some family bonding, or friends for a fun adventure. You can go for a day trip, or spend a night or two. Whatever you choose to do, I can assure you that this will be an unforgettable experience. 
For the third idea, I suggest going on a hike and finding some water! There are a ton of hidden and beautiful places in Virginia to hike. Often, especially in the Shenandoah Mountains, you can find naturally occurring pools of water and beautiful waterfalls with refreshingly cold water. One of my favorite places is South River Falls located in Stanardsville, VA. All you have to do is grab a bathing suit and go!
This idea is a little cliche, but go camping in your backyard. Set up a tent with some friends, and get some blankets and pillows. Have everyone bring a different food. It is a simple, yet entertaining activity that makes the best memories. 
For the fifth idea, I recommend having an outdoor projector movie night. This one takes a bit of planning, but it is well worth it! Invite some people, spread out, and put on a good movie. I suggest catering the food theme to the movie. For example, if you're watching Harry Potter, make themed cookies and homemade butterbeer! Projectors can be found online, or you can ask a neighbor or friend if you can borrow theirs. 
Lastly, for the athletic people out there, try challenging yourself by biking for an entire day. Do it with a friend or two, wake up early, and set out. You can plan your route or make it up as you go. The Washington area has miles of biking trails, where you can ride from downtown DC to West Virginia. Bike until the sun sets, or as long as you can go. Either way, it is an exciting adventure that is more fun than it sounds!
These are a couple of ideas on how you can spend your summer in the sun. Keep in mind, for all of these wear masks and if you can, spread out. Be mindful of those around you, and most importantly, remember to have fun!