Huskies Win Big at the Virginia Latin Convention
Ever since spring of last year, events for everyone have continued to be canceled left and right, to the point where some of us don't know if we'll ever get back the chance to enjoy some of the events that we love so much. This trend couldn't be truer for Flint Hill Classics students, who, as a part of the VJCL (Virginia Junior Classical League), have a long history of attending the state Latin convention in Richmond. Like many other events, the in-person convention was canceled, but luckily for students, they could still enjoy online conventions.  
According to the Classics Department chair, Woojin Kim, Flint Hill has "a 30-year history of not only attending, but also of scoring highly in a variety of contests, and providing representation and leadership for Greek and Latin students across the state." The case was not different this year, where students from both Greek and Latin classes got their chance to demonstrate their classics knowledge. Overall, students won over 100 awards in Classics Club Contests and others, with specific standouts being 130 academic awards (8 1st place awards, 50 top-5 awards, 72 top-10 awards), 16 total honors in creative arts (3 "summa cum laude," 4 "magna cum laude," 9 "cum laude"), and 5 honors in the graphic arts (1 "summa cum laude," 3 "magna cum laude," 1 "cum laude"). Along with the academic and artistic awards, the Classics Club also got a chance to shine in various club contests. Awards included: "1st in Publications, 1st in Overall Publicity, 2nd in Digital Scrapbooks, 2nd in Service, and 3rd in Overall Spirit."  
The event wasn't all contests though, a variety of guest speakers and activities made sure the Convention still had its unique touch despite the circumstances. Some events were especially popular, as noted by Sophomore Noah Anderson Weiskercher, "I'm usually an academic guy, but the activities were great this year! I especially enjoyed Roman Murder mystery, Open Certamen, and playing Among Us with the Middle Schoolers."  
As can be seen, despite the circumstances, Flint Hill had an extremely successful Convention this year with awards being won all around, and even with the focus on academics, through a variety of activities, a great deal of fun was had by everyone. The past year has taught everyone that we shouldn't take events for granted. The State Convention this year specifically stands to show that even though some modifications may be necessary, we can continue to be extremely successful.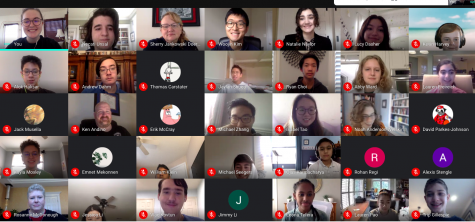 FlintHill attendees pictured just before the General Assembly