New Tennis Facilities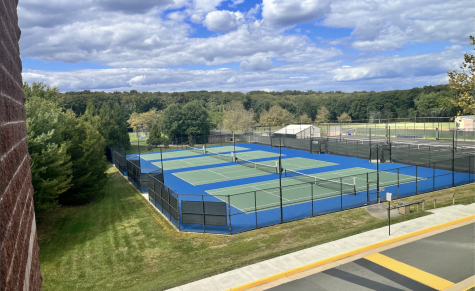 Every morning, Upper school students make the same trip: stepping out of their cars and walking toward the main Upper School building. And, every trip I've taken, I've been amazed by the nearby brand new Tennis Facilities, gleaming in Flint Hill's proud colors, the blue and green.
In previous years, the tennis facilities had been worn down, due to wear and tear, regular use, and weather conditions eating away at the foundation of the courts. Nick Bennet, the head and assistant coach to both the boys and girls varsity tennis teams, said that "the courts [were] in rough shape, there was a lot of structural damage." There were many drainage and foundational issues within the courts itself.
Recently, the administration managed to remodel the courts for the new tennis season. The renovated spaces include entirely refinished courts from the ground up, in which the school redid the foundations. Also, the upgraded facilities have new nets, new posts and new benches. Despite a tight schedule, the athletic administration maneuvered effectively and efficiently to provide the team with the finest facilities possible. It needs to be addressed that certain individuals, such as director of athletic operations Alex Walker, and director of athletics DeWayne Robinson, and the whole athletic department, have committed so much to ensuring our tennis team gets the highest quality facilities possible. They truly deserve our applause.
Thanks to the updated facilities, our team will be able to improve their skills on the field and will be proud to play on high-quality courts. 
When asked about the goals for the tennis team this year, Mr. Bennet responded that "everyone wants a state championship; that's always been the goal, but helping players be the very best they can be… this is [our] top priority." In addition to being winners, the Flint Hill Tennis team will continue to put forth Husky values and ideals, to whatever match they play.