Radium Girls: A Dazzling Drama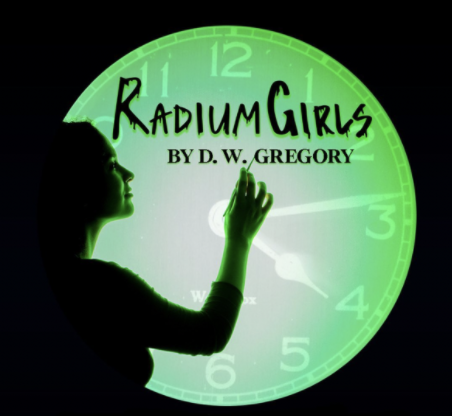 Though there has been much uncertainty in 2021, this year's fall play, Radium Girls, was a spectacular success. From beginning to end, the story left the audience on the edge of their seats as they watched the true 1920's-era tragedy come to life. The piece's emotion was heightened with stellar performances from junior Abby Lyons, senior Logan Wagner, senior Marcus Pennisi, junior Mariya Dempsey, and all of the other actors involved. The special effects, most noticeably the projections, were superb. The historical costumes, set design, and props all added a level of authenticity as well. With all of these elements combined, director Kirsten McKinney beautifully conveyed D.W. Gregory's engrossing tale. The drama effectively put a spotlight on themes of female empowerment and workers' rights.
The year is 1926, and radium is the hottest trend. The luminescent element is not only visually appealing, but also is said to have beneficial health effects. After Marie Curie's miraculous discovery, everyone is dying to have luminous watches that contain it. No one thinks twice when the workers who make them ingest it while painting the dials. But when girls start to fall sick mysteriously, Grace Fryer (Abby Lyons), a young watch painter, has to fight for justice. She takes on the U.S. Radium Corporation and her former employer, Arthur Roeder (Marcus Pennisi), in a desperate attempt for the truth to be heard. 
"Radium Girls tells the story of the suffering a group of young women in the 1920s had to go through and how the system failed them. I believe their story should never be forgotten, and I am truly honored to have had a part in making their story come to life once again," says junior Riya Nilawar, who played the daughter of Arthur Roeder. The work of the cast and crew was vital to the play's success. Grace Fryer's story showed the importance of perseverance and fighting for justice. Through her inspiring journey, important themes such as conflict between big corporations and individuals were portrayed, which are issues that hold relevance even today. Radium Girls showed this struggle for workers' rights while also providing lighthearted moments along the way. Overall, this year's fall play shined bright and excellently illustrated a powerful story.