Flint Hill Enjoys Founder's Day Together Again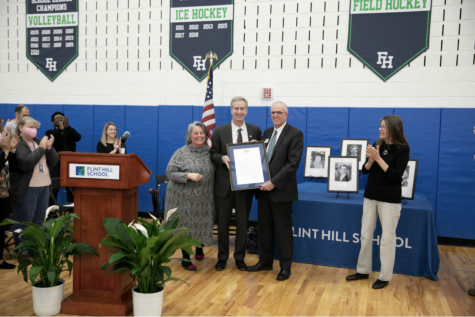 A return to normal. This has been the theme for this entire school year. Flint Hill has continued to slowly bring back year-old traditions that were absent during the pandemic. Many of us were forced to adapt to virtual learning, and then to partially virtual. However, this year, we were able to return to fully in-person education. Some of the most notable traditions that have been brought back are Town Meetings, The Lifer Ceremony, and the Opening and Closing ceremonies, which have been virtual for the past two years to avoid large gatherings. This year, the entire Flint Hill community enjoyed Founder's Day in person together. Founder's Day is a celebration of those who have been integral to the success of the Flint Hill Community and who have made notable contributions. 
       Since 2006, Founder's Day has recognized these community members with the annual Driving Spirit awards. While the awards are given to notable faculty and staff, this year, three special community members were additionally recognized. One of these is Til Hazel, and the other two were our beloved Headmaster, Mr. John Thomas and Sibel Unsal, who has led the Parents' Association for several years. Mr. Til Hazel was not only important to the Flint Hill community but to all of the Fairfax County area. He was an attorney and a real estate developer who is attributed to developing much of the Fairfax County area, including Tysons Corner. He was better known in our community as the Chairman Emeritus of the school who has the Hazel Lower School named in his honor. Mr. John Thomas was also honored with two awards, both surprises. First, he was given a commending resolution adopted by the Virginia General Assembly. Delegate David Bulova, a member of the Virginia House of Delegates, made a special appearance to make the presentation. Second, he was given the Ultimate Driving Spirit Award to recognize his dedication to our school community and his long-lasted tenure here. Flint Hill Board of Trustee Pia Trigiani was given the honor of presenting this award to the Headmaster. 
       Finally, the annual recipients of our traditional driving spirit awards were: 
       Rick Clark, Controller
       Mary Hart, Director of Health Services
       Tom Kessel, Assistant Director of Facilities
       Melissa Turner, Information Technology Manager
       Without the contributions of any of these faculty and staff members, our school would not be as successful as it currently is. In addition, while only four members received this Driving Spirit award, it is important to recognize the contributions of all Flint Hill faculty and staff members as they all make sure that our school experience is as successful as possible.