Welcome Back to School Amidst a Pandemic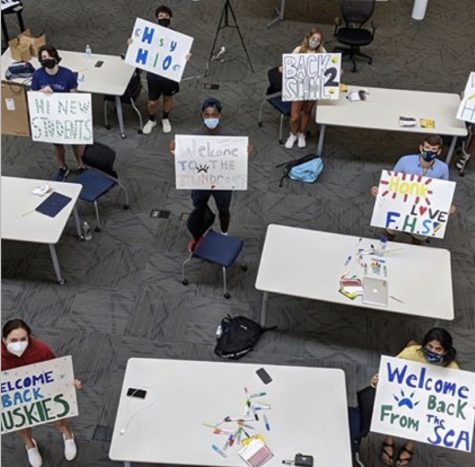 Hey Huskies and welcome back to school, I am so excited and happy that school has started up again! Even with this new school system, the school year can still be exciting. I am doing hybrid learning, and I think it is the perfect mix. Although all-virtual learning is enticing due to the fact that you do not need to wake up as early, I definitely missed my friends over the summer, and as long as we follow all of the safety precautions everyone can still see each other. Students were welcomed with big signs and nice greetings from teachers, faculty, and ambassadors on the first day of school. 
This year, because of COVID-19, there isn't any food being served in the cafeteria. We now pack and bring our own lunches to school. We also get to eat lunch with our advisory, and it is a great way for everyone to bond. In just a few weeks, I have felt much closer to my advisory, and it has been very fun getting to know everyone. 
In addition to the cafeteria closing, we also have a new schedule. Instead of letter days, there are now just regular days of the week, and on Wednesdays, we participate in meetings and asynchronous work. I think this schedule incorporating Wednesdays in this fashion is very helpful because students are able to catch up with work and find time to relax. Now that we have each class every day, the homework load has increased, so having more time to do work is needed. It is also the perfect transition from physically going to school if you are participating in hybrid learning. 
In the second quarter, I know a lot of students are switching from online to hybrid learning, and some parents are worried about their safety. Flint Hill has definitely made sure that the reopening was as safe as possible. With smaller classes, masks, temperature readings, and separating and cleaning desks after every class, parents can feel relieved knowing that the school is fully prepared to tackle this pandemic. Although wearing masks all day in school and not seeing your friends while virtual can be difficult, it is worth it. If everyone follows the guidelines hopefully, we will be able to get back to normal faster. But, it all depends on the status of the virus in the state of Virginia, and the rest of the country. I, and the rest of the school, are very grateful that we can still carry on with school. 
Even some extracurricular activities are continuing during this time which helps students get another activity credit, or continue doing a class they love, mid-pandemic. It definitely takes some getting used to being on a screen all day but it is amazing that we can have such a smooth transition from physical school to hybrid or all-virtual learning. 
Today was the club fair, which will allow students to keep leading and joining clubs. Many clubs help with service hours, and I know that a copious amount of my friends and other students were concerned about how they would get their service hours. Last summer my friends and I were trying to get a jumpstart on community service for this year, but all the events started to be canceled as a result of the pandemic. With everything closing down, students would not be able to finish their hours for last year or get a head start this year, which could be very concerning because you cannot graduate without the proper amount of service hours. Our school has accommodated service hours into the new plan for this year, the requirement has been reduced to four hours instead of 15. This year, I have signed up for many clubs that grant students with service hours, and I have also looked around my neighborhood to see if there was anything I could do to make it better for my community. Last year I cleaned up trash with my friend near a senior center in my neighborhood and I may continue this project. Looking around your neighborhood, asking friends or family, and even teachers are a great way to see if there is anybody who needs help or if there is a cause you would like to help advocate for and help with. 
Overall, this school year has been a massive change for everyone. This new way of learning has been well-planned so every student can feel prepared, welcomed, and excited for this school year. Enjoy the rest of your year Huskies! Remember to be safe, stay six feet apart, and always wash your hands. Now, let's enjoy this year!